As an educator, I always enjoy the arrival of summer as a time to travel and build experiences to share with my students during the next academic year.  Two weeks ago, I had the adventure of a lifetime when I travelled to Ecuador and the Galápagos Islands.  However, I was quite surprised that within 24 hours of landing in Quito that I was having a conversation with an entrepreneurial Ecuadorian about the power of personal marketing.  This young man was explaining to me that he was seeking to build a reputation as an exceptional tour guide known for his compelling storytelling about the country and culture.  He also happened to be a talented graphic artist who had designed a captivating logo to reinforce his brand.  He actually started explaining to me the importance of personal branding without even knowing that I was a professor who taught marketing.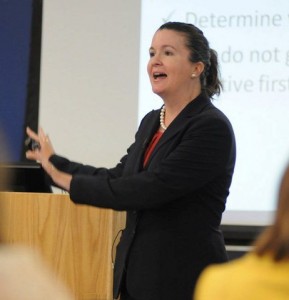 This past weekend, I had the pleasure and privilege of discussing personal marketing in quite a different forum at the WVU Integrate 2.0 Conference.  This special event brought together 140 IMC practitioners from across the US to share innovations in creative design, virtual/mobile/video technologies, public relations and a multitude of marketing related topics.
During my session, I shared various tips on leveraging social media channels for "Marketing YOU!"  I was so pleased with the questions and positive feedback that I received during and after the presentation.   Questions included:
How do I determine where to focus my efforts? Always focus your efforts on those channels that are most effective for reaching your target audiences.
Should I send a note of thanks to individuals who decide to follow or like me in social media channels?  In most cases, I would recommend it, as "Thank You" remains two of the most powerful words for developing relationships.
How do I personalize a LinkedIn account? Click on Profile – Click on Edit Profile – Scroll down the screen and click on the Edit button next to Public Profile – Then on the right hand side of the screen there will be a link to "Customize your public profile URL."
To view a video of the presentation, click here.  And to ask additional questions, just comment below!