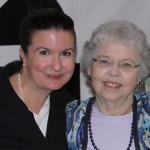 This afternoon I returned from an annual planning meeting with the advisors of the Fred Rogers Center.  The time that I spend with these talented and passionate individuals always leaves me feeling inspired.  The photo that I have included in this post is of me and Mrs. Joanne Rogers, who serves as Honorary Chair for the Advisory Council (and, if you ever wondered, Mrs. Rogers is an amazing individual and the ideal wife and partner for Mister Rogers).
We spent considerable time this weekend discussing the power of branding and how to further strengthen marketing communications for the Fred Rogers Center.  During our conversations, I could not help but reflect on the powerful brand that Fred Rogers built and what his name continues to represent even years after his passing.  There is no doubt that Fred Rogers had one of the most impactful personal brand images of his time, before the concept of personal marketing even existed.
Intuitively, Fred Rogers understood the fundamental meaning of authenticity and relationships, especially with children.  When he would address the audience of the beloved program Mister Rogers' Neighborhood, each of us felt that he was speaking directly to us.  He had a true gift for being able to establish an emotional connection with those around him and, even if we had never met him, each of us believed that we had a relationship with him — a relationship that was built on caring and appreciation.
Fred Rogers was also known to have great focus and discipline in his life.  And he recognized the importance of taking a stand for his principles.  One of the most watched Fred Rogers' videos on YouTube is when he testified before members of the U.S. Senate to support funding for the Public Broadcasting Service (PBS).  Fred Rogers always seemed to be true to himself, even in the most difficult of situations.
My own life, and personal brand, has certainly been influenced by Fred Rogers.  I know that I am not the only one who thinks at times, "What would Mister Rogers have said or done?"  However, Mrs. Rogers asserts that it is not what Fred Rogers would have said or done in the past but what we should do now to strengthen the mission and outreach of the Center that is most important.  And, of course that lesson extends beyond our work at the Center — although we should take time to reflect on the past, it is our actions in the present that truly matter.
The final personal branding lesson I want to share from Fred Rogers is the power of leveraging technology to share your message.  Fred Rogers presented his authentic self whether he was sharing a message through a television program or before a U.S. Senate committee hearing.  In a world that is more integrated than ever through technology, all of us need to be cognizant of the messages that we share with others and how those messages reflect and reinforce our personal brands.