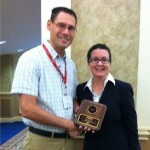 I recently returned from attending the Marketing Management Association (MMA) educator's conference in St. Louis.  This annual event attracts faculty from around the world, who share research and best practices related to marketing and management education.
During the conference, the Wessex Press Teaching Innovation Competition is held.  Three finalists are selected from submitted applications to present their teaching innovation at the conference. I was thrilled to be selected as a finalist, and shocked to be selected as the winner, for this year's competition.
The concept that I developed was titled "Developing POP! A Professional Online Presence." The impetus for this teaching innovation was the need to provide students with a distinct advantage in a job market that has become extremely competitive.  I had been thinking of such a concept since the summer of 2009, when The Wall Street Journal announced it was the toughest labor market in 25 years for graduating college seniors.
Several months after The Wall Street Journal article, the Pew Research Center declared that, "reputation management has now become a defining feature of online life." During my discussions with students, I realized that they were not actively managing their online identities.  Thus, I was inspired to demonstrate to students that social media should be considered not simply a personal communication channel but a valuable marketing tool for establishing a professional online presence.
In the process of developing a framework for students, I read another article in the Harvard Business Review that asserted, "Every art student has a portfolio ready to be shown at a moment's notice. It's no different in the business world."  At that point I decided the established framework needed to allow students to create a virtual portfolio of their work and interests, which resulted in a ten-step process, "Developing POP! A Professional Online Presence."
The Developing POP! framework and presentation slides from the MMA conference can be accessed here.  And I would welcome your comments and suggestions below!