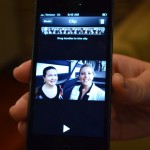 This week I have the pleasure of attending the Marketing Management Association Educators' Conference in New Orleans.  I always enjoy this conference as it offers great networking and learning opportunities with colleagues from around the world. During this year's conference, I have the privilege of serving on a panel focused on the topic of "Apps for Academics in Higher Education." The growing volume of apps that are downloaded highlights the proliferation of this trend. In 2008, Apple launched its App Store with an inventory of 500 apps. Only five years later, Apple has achieved more than 50 billion downloads and the App Store offers in excess of 850,000 apps to iOS users in 155 countries.
Following are "20 Apps for Academics in Higher Education."  The image above is a screen shot of a quick personal branding video developed with my colleague, Rachael Post, using Videofyme (the last app featured below).  In addition, the presentation on a few of these apps that Dr. Mandeep Singh shared during the conference can be accessed here.  Please feel free to comment with other apps that should be included on this list!
1Password (iOS or Android / $8.99) Password manager for generating and storing secure passwords. Synchronizes in the background with computers and other mobile devices.
Animoto (iOS / free) "Turn your camera roll into beautiful, pro-quality videos. Choose your music and photos and share your amazing videos with everyone!"
Cardmunch (iOS / free) The app that turns your business cards into contacts, with LinkedIn integration.
Culture GPS (iOS / free lite version) This innovative tool allows for the analysis of visible behavioral differences in intercultural encounters, based on Hofstede's cultural dimensions.
Dropbox (iOS or Android / free for 2GB of storage) Dropbox allows users to sync files online and across computers. The iPhone app makes it easy to copy files from computers to mobile devices.
Evernote (iOS or Android / free) "Evernote makes it easy to remember things big and small from your everyday life using your computer, phone, tablet and the web."
Flipboard (iOS or Android / free) Flipboard allows users to create and view personalized content in a magazine-style layout. Flipboard curators can also invite others to contribute to their magazines.
GoodReader (iOS / $4.99) Robust PDF reader with advanced reading, annotating, markup and highlighting capabilities, excellent file manager, text file reader/editor, and audio/video player. Highly recommended for reading and annotating scholarly articles.
GroupMe (iOS or Android / free) This app is useful for student teams in a classroom setting and for student organizations.  Students often suffer from in-box blindness and e-mail fatigue, and GroupMe helps overcome those issues.
Instapaper (iOS or Android / $4.99) Read saved web pages on the go, even offline. Install a bookmarklet in your computer browser and click to save a whole article into Instapaper for later reading.
LinkedIn (iOS or Android / free) Leading networking tool and source of prospective speakers for classes and employers for students.
LogMeIn (iOS or Android/ free) Remotely access your Mac or Windows computers from anywhere. Very easy to set up and use compared to other similar programs.
MindTools (iOS or Android / free) A resource site for management, strategy, leadership and career development tools and descriptions.
OneNote (iOs or Android / free) "OneNote simplifies note taking, organizing your notes, and sharing them. Capture text, images, video, and audio notes and search your notes fast."
TED (iOS or Android / free) "Riveting talks by remarkable people, free to the world." Excellent videos to inspire classroom discussions.
ToDo (iOS / $4.99) ToDo has a beautiful and simple interface that is full of features such as projects, checklists, multiple task alerts, etc.  ToDo makes it easy to keep your lists in sync between your mobile devices and computers. (Android users, try GTasks).
Papyrus (Android / free) "Papyrus is a natural handwriting note-taking app that you use just like paper, but with the flexibility and advantages of modern technology."
Pentultimate (iPad / free) "Penultimate is the original and easiest-to-use handwriting app for iPad that combines the natural experience of pen and paper with the flexibility and syncing of Evernote."
PDF Pen (iOS / free trial available) "The all-purpose Mac PDF editor!  Sign files or mark up student assignments directly on the iPad."
Videofyme (iOS or Android / free) Videofyme is to videos what Instagram is to photos. Fantastic filters and an easy-to-use editing studio.